Perry's Blog
Greer Cultural Arts Council's New Home at the old National Guard Armory Building
Published: Feb 21, 2012
Last Saturday night, Erin and I celebrated Saint Valentine's Day by attending the Starry Night Gala to benefit the Greer Cultural Arts Council's new home. The event was well attended at the beautiful Greer City Hall, but their new facility will be in the, still under construction, old National Guard Armory building next door.
---
Prime Time Event at The Davenport
Published: Feb 17, 2012
Yesterday, The Greer Chamber held its Prime Time Event at The Davenport. Along with the usual cast of characters, there were a lot of new faces and new members who joined during the recent, fabulously successful membership drive. I came away encouraged in our economic future as well as the future of Greer.
---
Best Bagel Breakfast at Acme General Store
Published: Feb 4, 2012
I had a great bagel and cream cheese with coffee this morning at Acme General Store. That may not seem to be particularly interesting for most, but it was in fact a wonderful experience. A breakfast experience as good as any that I have ever had or at the very least, the best bagel breakfast experience.
---
Ten at the Top's Upstate Vision Forum at the BMW Zentrum
Published: Feb 1, 2012
Yesterday, I attended Ten at the Top's, Upstate Vision Forum at the BMW Zentrum. The forum topic was "Communicating Information Across the Upstate" In addition to the official unveiling of the Upstate's new information hub, www.tenatthetop.org, there was also a panel discussion on Social Networks and how they have changed the way we access news and information. After the Forum, people actually socialized and spoke with each other in person.
---
Kudos to Rick Danner and Ed Driggers
Published: Feb 1, 2012
Kudos to Rick and Ed, two very influential people in my life.
City of Greer Mayor Rick Danner and City Administrator Ed Driggers have been named among Greenville Business Magazine's annual 50 Most Influential People issue on newsstands now. Both were included in the area of government.
---
Greer Development Corporation: Valuable Organization
Published: Jan 26, 2012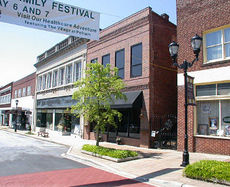 Greer Development Corporation has a 10 year record of job creation. I am honored to be a member of The Board of Directors of this little corporation that creates big job opportunites in our community.
---
Trade Street Neighborhood Association Meeting at the International Cathedral of Prayer
Published: Oct 19, 2011
Last night I attended The Trade Street Neighborhood Association Meeting at The International Cathedral of Prayer at 100 Davis Avenue. I always enjoy the neighborhood association meetings because that is where you meet the heart and soul of the community. Just folks from the neighborhood, wanting to improve the quality of life in Greer.
---